DIABETES & DIET – HEALTHY SNACKS
AVEON HEALTH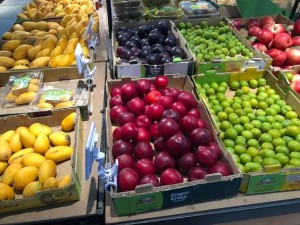 To say that we Americans are a Snackin' Bunch would be a gross understatement! In fact, in 2017 it was estimated that we spent some 374 BILLION dollars on Snacks! That's roughly $1,000.00 for every man, woman and child in the country! And, if we are absolutely honest, we have to admit that Diabetics are well represented in the number of "Snackers." That being the case, the only way to realistically approach the concept of Snacking is not to try to convince Diabetics to not Snack, but rather to try to convince them to partake in healthy Snacks.
The first issue, then, is defining what a healthy Snack is. A good rule of thumb is to look for something that is high in protein, healthy fats, and fiber. Such items will assist in keeping blood sugar at a proper level. With this thought in mind, we will take this opportunity to list a few specific foods that qualify as "Healthy Snacks."
Hard-Boiled Eggs – Especially Valuable for their protein content.
Yogurt with Berries – The Berries bring antioxidants and Fiber to the plate, while the Yogurt is rich in Protein – particularly Greek Yogurt.
Almonds – Nutritious, convenient, and come in a variety of delicious flavors.
Veggies and Hummus – Both vegetables and hummus are good sources of fiber, vitamins and minerals. Additionally, hummus provides lots of protein!
Avocado – If you have diabetes, snacking on avocado may help manage your blood sugar levels. The high fiber content and monounsaturated fatty acids in avocados make them a diabetes-friendly food.
Sliced Apples with Peanut Butter – Apples are rich in several nutrients, including B vitamins, vitamin C and potassium, while peanut butter provides significant amounts of vitamin E, magnesium and manganese, all of which are known to help manage diabetes. Both apples and peanut butter are also very high in fiber. One medium apple combined with 1 ounce (28 grams) of peanut butter provides almost 7 grams of fiber, which is helpful for keeping your blood sugar under control.
Beef Sticks – Beef sticks are convenient, portable and diabetes-friendly. What makes beef sticks an excellent snack for people with diabetes are their high protein and low carb contents.
Turkey Roll-Up – Turkey roll-ups are a great snack option for people with diabetes due to their low carb and high protein contents. One wrap provides about 5 grams of protein, which will help prevent your blood sugar levels from rising too high.
Tuna Salad – A 3-ounce (84-gram) serving of tuna provides 22 grams of protein and no carbs, which makes it a great snack option if you have diabetes. Additionally, tuna is rich in omega-3 fatty acids, which have been shown to help manage diabetes due to their potential to lower inflammation and improve blood sugar control.
Popcorn – Has been deemed one of the best snack foods for people with diabetes, partly because of its low calorie density. One cup (8 grams) of air-popped popcorn contains just 31 calories. Snacking on low-calorie foods may aid weight control, which is known to promote decreased blood sugar levels and better overall management of type 2 diabetes. In addition, popcorn provides 1 gram of fiber per 1-cup (8-gram) serving, which is another property that makes. It is healthiest to air-pop your own.
No-Bake Energy Bites – Are a delicious and healthy snack made by combining and rolling ingredients of your choice into balls. Some common ingredients include nut butter, oats and seeds. Most of the ingredients used to make energy bites are high in fiber, protein and healthy fats — three key nutrients known for keeping blood sugar stable.
Black Bean Salad – Since black beans are rich in fiber and protein, they make a healthy snack for individuals with diabetes. Eating them may prevent blood sugar spikes and help lower insulin levels after meals.
Trail Mix – Trail mix is a snack made by combining nuts, seeds and dried fruit. The key is to avoid adding too much dried fruit to your trail mix, as it is quite high in sugar and may spike your blood sugar if you consume too much.
Peanut Butter Celery Sticks – First, celery sticks are very low in calories, providing only 16 calories per cup (101 grams). This can help you manage your weight, which helps control type 2 diabetes. Furthermore, celery contains antioxidants called flavones, which have been studied for their role in lowering blood sugar. Adding a tablespoon or two (about 16–32 grams) of peanut butter to celery sticks adds some extra protein and fiber to the snack, which will benefit your blood sugar control even more.
As you can see, Snacking isn't the problem – - what we Snack on is where the issue lies! For the most part, Healthy Snacks are just as convenient, and tasty!, as those Snacks that do our bodies harm!
If you, or someone you know, needs help in managing their Diabetes, please call AVEON HEALTH at 480-300-4663 to make an appointment with a member of our staff and allow them to escort you down the path to an improved quality of life for you and your loved ones!
This Blog was written, in great part, with information gleaned from the following sources:
https://www.healthline.com/nutrition/best-snacks-for-diabetes#section22
https://www.huffpost.com/entry/snack-meal-spending_n_5913166?guccounter=1&guce_referrer=aHR0cHM6Ly93d3cuZ29vZ2xlLmNvbS8&guce_referrer_sig=AQAAAHDG7pxFYy83o8lwtKQg4nPthUAnXPvI1DXbXGhq1C9nELFkDcIK6TjtlsNV_qx8Sb6jr58EVFrmnRwDDP5zOAZEmAyY0RasYOHjvh2StA681os-bgGDAZcPrUkaWAb8F4qR062eAtc31LUzCxgwobgrkZ5yap9lMNE7sN-AAmmW